HANS SAUER AWARD 2021 // AWARD WINNERS
On the 6th of May 2021 the Hans Sauer Award Ceremony took place. The award on Circular Cities was handed over online.
You can find the call HERE. The jury nominated five projects in three categories:
Collaborative reuse of digital devices ​
Category: Best Pratice
The City Council of Sant Boi de Llobregat fosters the reuse of its out-of-use computing devices for children from low-income families, enabling them to participate in online distance learning – which is highly relevant as schools are closed due to COVID-19 and corresponding confinements. The project closes the digital divide for children in need and shapes a circular economy ecosystem that benefits local economic activities.
Ereuse.org's mission is to promote society to avoid the premature recycling of electronic via the practice of reuse. Our project with the City of Sant Boi de Llobregat creates local job opportunities which fosters local resilience.
Partners:
– eReuse
– City of Sant Boi​
Haus der Materialisierung
Category: Best Pratice
The HdM seeks to create a highly sustainable, ecologically oriented urban space, where the common good and an awareness for circularity come first, and profit comes second. The HdM is a multidisciplinary living lab, run collaboratively by 25 civic initiatives, artists, small businesses and techno-scientific actors. It hosts a secondary materials market, workshops for textiles, wood and metal, a repair café, a store for lending, a showroom for second-hand goods and space for activities and events, thus creating a new and freely accessible hotspot for innovation.
Partners:
– Berliner Stadtmission
– Consum.de
– FahrArt
– Kostümkollektiv e.V.
– Kunst–Stoffe –Zentral-stelle für wiederver-wendbare Materialien e.V.
– Material Mafia
– Mitkunstzentrale
– Ort-Schafft-Material
– TU-Berlin -Fachgebiet Kreislaufwirtschaft und Recyclingtechnologie
– ZUsammenKUNFT Berlin eG
Print your city

Category: Strategy​
Print Your City is an initiative by The New Raw that explores the concept of applying 3D printing to plastic waste, as a way to re-design urban space. As the name suggests, Print your City is a call for action, rallying citizens to recycle household plastic waste in order to transform it into raw material for public furniture, via a robotic 3D printing process and participatory design.
Partners:
– The new raw
– Municipality of Thessaloniki​
– Coca-Cola in Greece ​
– Ogilvy Greece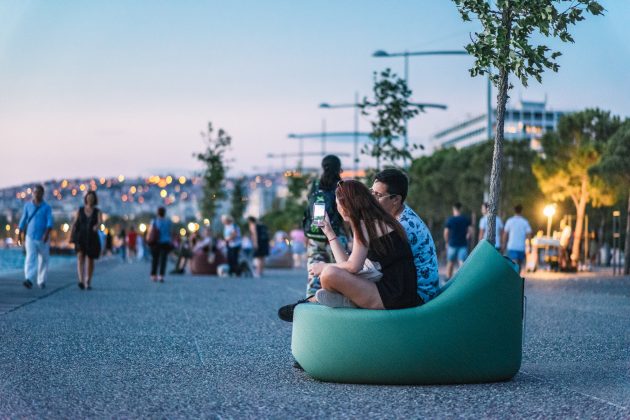 Kiel Zero Waste Strategy
Category: Strategy
Kiel is on its way to become a Zero.Waste.City. By developing an own Zero Waste Strategy as a roadmap to a Zero.Waste.City, the state capital Kiel aims to significantly reduce the amount of waste generated in Kiel, preserve resources and protect the climate through lower CO2 emissions. Kiel thereby intends to counter the global challenge of the increasing scarcity of resources at the local level.
Partners:
– State capital Kiel​
– Wuppertal Institute for Climate, Environment and Energy​
– Zero Waste Kiel e.V.​
Wasteland
Award Category: IDEA
The project Wasteland transforms garbage like old chairs and tables which where left on the doorsteps in social housing areas in Frankfurt into new objects. This is done by people who are living in the areas and students from university. The aim is to learn more about materials, the consumption system and the possibilities of recycling. The project wants to encourage people to improve their own living environment and form a new community.
Partners:
– Postwar Modernist Housing Research Lab at Frankfurt University of Applied Sciences​
– Frankfurt University of Applied Sciences, Faculty 4 (Social Work)
– uLab, Studio für Stadt-und Raumprozesse​
– Unternehmensgruppe Nassauische Heimstätte​